2018 International Passivhaus Conference
The 22nd International Passivhaus Conference took place earlier this month and PHT joined over 1000 attendees in Munich. The inspiring international 2-day event was preceded with Passivhaus workshops and tours taking place the day after.
This year's conference slogan was 'Passivhaus – it's worth it.' The theme aimed to highlight the cost-effectiveness of Passivhaus over a buildings whole-life, reducing operational costs and maintenance, particularly valuable for affordable social housing. Evidence also suggests that the capital costs of constructing Passivhaus are becoming more feasible across the globe with the increased availability of certified components and an improved supply chain.
In our global climate change dilemma, Passivhaus provides an effective & positive solution to reducing CO2 emissions. Several speakers suggest that we must change how Passivhaus is communicated, moving away from technical jargon justifying that it works, and towards marketing 'Passivhaus pleasures' to entice the mainstream. Facts dont have feelings! This was highlighted in Elrond Burrell's data-free keynote talking about integrity, comfort, community and design, which are what people can better relate to. It is probably a balance of both, but the Trust agree with Passivhaus pioneer, Micheel Wassouf, "the best marketing campaign is the buildings that have been built."
There was a healthy UK delegation in attendance at the conference, and the UK presentations were well received with packed rooms.
| | | |
| --- | --- | --- |
| | | |
| | | |
| | here. | |
All above images ©Nick Grant unless otherwise stated
As well as an inspiring seminar programme, the conference offers an exciting exhibition, often showcasing the latest innovative Passivhaus products and systems. The 2018 component awards focused on ventilation systems for small apartments - An integrated wall unit by fresh-r won, and is being deployed in a large scale Scottish retrofit scheme.
Several workshops took place, ranging from software tutorials to technical and policy meetings. Chris Herring, represent the Trust and chaired both the IPHA Technical Panel & IPHA Affiliates Council.
Left image: Francis Bosenick, Chris Herring, Jürgen Schnieders and Jessica Grove-Smith discuss the history, goals and future of the IPHA technical panel. Right image: IPHA Affiliates Council
The popular site tour excursions were sold out, with many echoing Wolfgang Feist's plenary affordable cost-effective theme, focusing on social aspects including the 'Munich Mix.'
It was refreshing to hear Architects talk about where the costs are and how these are due to design decisions and complexities, usually required for planning. The contractor is often blamed for extra costs in the UK. Architects in Germany do not seem to view cost understanding as an extra at all.
Nick Grant, Technical Director, Passivhaus Trust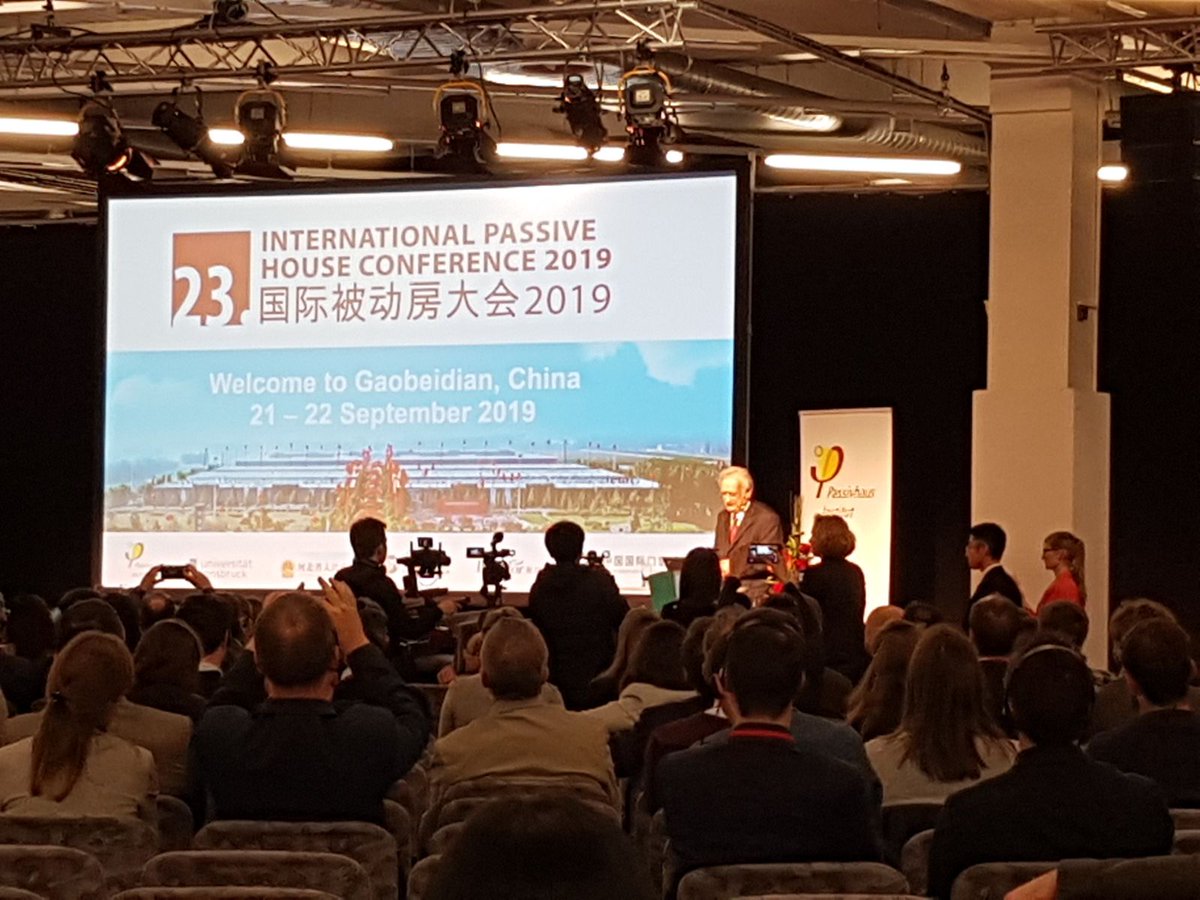 For the first time, the International Passivhaus Conference will take place outside of Germany; In 2019, an event will be held in Heidelberg, Germany May 3-4, with another conference later in September in the City of Gaobeidian – China! A 1.2 million m2 new city, including high speed rail links to Beijing, dedicated factories producing Passivhaus components, and ambitions that all buildings will be certified to Passivhaus standard.
The Chinese presentations put the rest of the world in perspective…. They are working at a completely different scale, and the speed of take up is truly mind boggling.
Chris Herring, Chair, Passivhaus Trust
Looking for a Passivhaus conference closer to home? Join the Trust's annual conference taking place in Leeds on the 13th November. 'The road to zero carbon: Performance in reality.
Many thanks to the twitteratti using #22intPHC, providing great live snippets and highlights from the event.
A selection of photos can be found on the iPHA flickr account

Further information
22nd International Passivhaus Conference
PHI Highlights of the 22nd International Passive House Conference 2018
Reflections on the 2018 International Passivhaus Conference - Chris Herring, PHT Chair
Learning to live with "Value Engineering" to build better, cheaper Passivhaus buildings - Nick Grant, via Treehugger
How an energy-efficient house can become a big wind-powered battery - Es Tridder, via Treehugger
15th March 2018
---