Passivhaus precedent aims for sheds of joy
Currently in the early phases of construction on a rural site in County Antrim, Northern Ireland, Knockboy Barn is aiming for Passivhaus certification. The build aspires to minimise operational costs, meet the owner's needs and to fit into its rural landscape, all while delivering the Passivhaus standard.
Just over an acre in size, the site sits on the southern slopes of Knockboy Hill and the proposed two storey structure covers approximately 200m2 excluding the garage and out-buildings. The design takes inspiration from rural buildings and echoes the form of a traditional agricultural barn. The high quality, low energy design aims to set a successful new precedent for rural, Northern Irish Housing.
The simple and compact shed-like form will support the build to meet the Passivhaus standard and the linear style, floor levels and roof profile have been carefully planned to minimise site excavation and create minimal visual impact.
The home has been designed to enable views to Slemish Mountain to the south east, and to gain panoramic views and evening sun to the west. The fenestration pattern and balance of solid to void has been calculated for internal comfort, to maximise light and benefit from solar gains. Nestled in the site, sheltered spaces are naturally created, and strategic native tree planting has been planned to provide essential shading and screening to prevent over-heating.
Works will include creating a new connection to the existing water, electric and telecoms networks. A septic tank and private treatment plant will be put in place and surface water which has not soaked into the ground will be collected and dispersed using soakaways.
The building uses many natural materials including locally sourced timber cladding, fibre cement cladding, green/ sedum roofing and natural stone wall. The primary material for the house will be vertical timber cladding with limited areas of naturally coloured fibre cement boards used at ground level on the north and south elevations.
Predicted Energy Performance



Airtightness (≤0.6ACH@50pascals)

0.6

Thermal Energy Demand (≤15kWh/m².yr)

15

Thermal Energy Load (≤10W/m²)

10

Primary Energy Demand (≤120kWh/m².yr)

120
The Passivhaus standard is designed for in the careful orientation, compact simple form, & high quality building fabric. Visit this scheme at the upcoming Summer Passivhaus Open Days at the end of June. Spaces are limited so book now.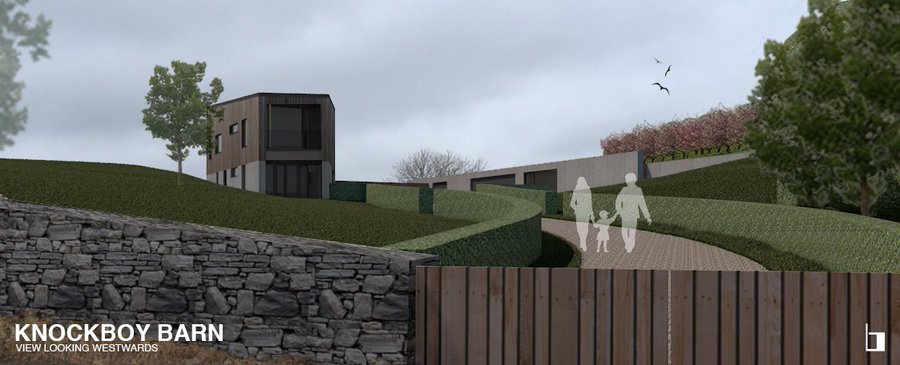 Key Team
Architect: Studio B Architecture
Passive House Designer: Passivate (Concept Design) / Simon Bell (Detail Design & construction)
Contractor: McGarel Developments NI
Landscape Architect: Simon Bell
Structural / Civil Engineer: Ian Douglas Design ID
Quantity Surveyor: Rainey & Best
Topographical Survey: RAW Surveying and Mapping Services
Woodland: Gregor Fulton, Woodland Trust

All images unless otherwise stated ©Simon Bell
Further Information
2019 summer UK Passivhaus Open Days
---
10th June 2019
---