Goldsmith Street delivers economies of scale
The award winning and Stirling Prize nominated Goldsmith Street development for Norwich City Council, just shy of 100 Passivhaus homes that are 100% social housing, has recently achieved certification. Consisting of 93 Passivhaus homes spread across 7 blocks aligned in 4 simple rows the development now holds the title as the UK's current largest residential Passivhaus development.
Goldsmith Street aerial view © Mikhail Riches/ John Fielding aerial photography
The terraced housing scheme began life as an RIBA competition (won by Mikhail Riches with Cathy Hawley) in 2008. The competition-winning Goldsmith Street design did not aim for Passivhaus standard at the outset. The council's subsequent conversion was sparked by two local housing association projects in north Norfolk, and adopted a fabric first framework.
Passivhaus is a good way of building because it both helps with fuel poverty and is aligned with our climate change agenda through carbon emissions reduction.'
Andrew Turnbull, senior housing development officer, Norwich City Council
All the new council-owned energy-efficient homes, a mix of 2-4 bed houses and 1-3 bed flats, will be let for social rent through Norwich Home Options.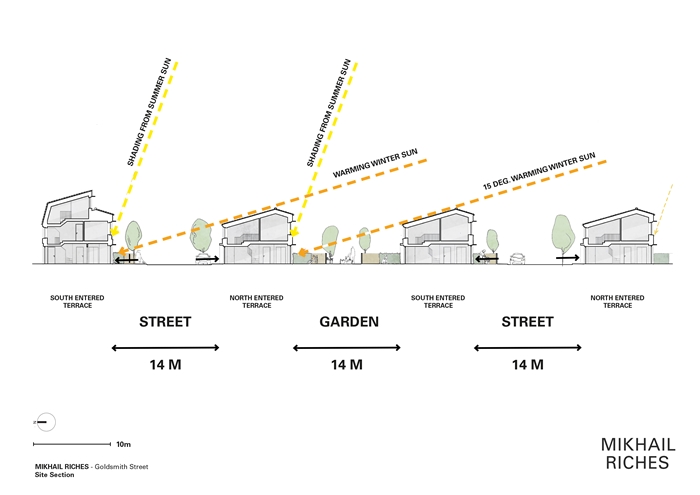 Narrow streets, carefully considered window placement, and cleverly sloped roofs maximise daylight into a dense developement, that does not feel oppresive or unsafe. Parking has been pushed to the perimeter to help maintain openess.
Key Stats

Treated Floor Area (TFA): 3,337.7m2

Year of completion: 2019

Units: 93 certified Passivhaus homes

Construction cost £14.7 million

Construction cost per m2 £1,875 (excluding professional fees)



It has been fantastic to meet some of the residents and hear their stories, which have shown the real difference these new homes will make. This development demonstrates our commitment to providing high quality social housing and I'm especially proud of these properties' eco-credentials which will benefit residents as well as the environment.
Cllr Gail Harris, Norwich City Council
This project demonstrates that cost is no longer a barrier; at £1875 / m², construction costs are in line with the average for the country. Architect Mikhail Riches explains that cost savings were made early in the design process by making significant alterations to the brickwork, roof and foundation packages, which didn't affect energy performance. The savings made in other areas allowed the Passivhaus features to be safeguarded. That is not to say that this is a low spec development. Contemporary materials include black glazed pantiles traversing from roof to wall, contrasting light coloured brick, and perforated metal brise soleil.
Predicted Energy Performance



Airtightness (≤0.6ACH@50pascals)

0.55-0.61

Thermal Energy Demand (≤15kWh/m².yr)

11.7-12.3

Thermal Energy Load (≤10W/m²)

10

Primary Energy Demand (≤120kWh/m².yr)

109-117
This is Mikhail Riches's first Passivhaus project and they had high architectural expectations. The architects wanted the Passivhaus Standard to work to the design rather than the design being secondary to complying with the Passivhaus Standard.
I think that's where a lot of Passivhaus schemes fail," adds Turner. "The focus is often too much on making the project Passivhaus compliant and forgetting that there still needs to be good design. This is where we pushed the design hard to achieve both.
James Turner, Mikhail Riches
This has been reflected in the finished result with services concealed and elegantly integrated into the design. Gas meter cupboards are concealed, gas pipework is hidden within the cavity of the brickwork, MVHR intakes are intelligently controlled, and boiler flues are not visible from the street.
It had to be ensured that systems & services employed were accessible and maintainable by the Council so they could readily adopt the new buildings with little issue. Each dwelling has a range of providers' services pre-wired, so that they can be connected on demand, mitigating the need for service providers to come in later and unintentionally damage or drill through vital airtightness layers.
Key lessons learned
1. Have an aspiration & commitment to achieve Passivhaus from the outset
2. Manage solar gains & overshadowing carefully
3. Early service co-ordination essential to integrate into design
4. Careful selection of construction method – to ensure repeatability
Key Team
Given that the upcoming Future Homes Standard is likely to increase regulations to the equivalent of Passivhaus certification within the next few years, good coordination and collaboration are key drivers of successful delivery. Goldsmith Street demonstrates all the positives that can be achieved when everyone involved pulls together in the same direction.
Learn more about delivering Passivhaus to the masses at the 2019 UK Passivhaus Conference this October in Manchester. Exclusive discounts are available for those working in Local Government & Housing Associations.
All images unless otherwise stated ©Mikhail Riches
Further Information
Passivhaus Social Housing: Maximising benefits, minimising costs.
Previous PHT story: RIBA Shortlists 2019 – 28 March 2019
Previous PHT story: Goldsmith Street nears completion - 30 May 2018
Previous PHT story: Norwich sets sights on UK Passivhaus capital - 28 May 2015
Previous PHT story: Fabric First framework for Passivhaus projects in Norwich - 30 April 2015
Mikhail Riches in Norwich: Passivhaus for the mass market: Architects Journal - 27 February, 2019
Ambitious M&E design for UK's largest Passivhaus social housing scheme: Greengauge
Achieving Passivhaus at Scale: UK Passivhaus Conference 2018
Passivhaus in Norwich: UK Passivhaus Conference 2017
---
20th June 2019
---