Cambridge becoming Passivhaus student digs hotspot
Lucy Cavendish College adds to a growing number of developments underway in Cambridge, fast becoming a hotspot for Passivhaus student accommodation. Preparatory work is due to start at the end of January (2021) on the new development, providing much-needed facilities for the growing College community.
The College is at the forefront of Cambridge University's strategy for significantly increasing diversity. Aiming for Passivhaus, the new building will house both undergraduate and postgraduate students and facilitate integration across an increasingly diverse student body, fostering an engaged, inclusive, and welcoming community.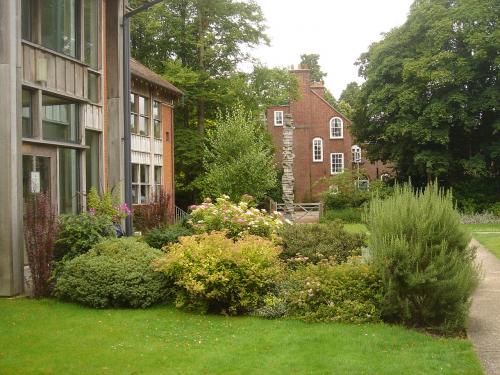 The proposal includes:
72 en-suite study-bedrooms
Ground floor café/bar
Landscaping & new courtyard
The bedrooms will be clustered in different combinations encouraging social interaction and providing for self-catering purposes. 4 bedrooms will be fully accessible, of which two will have carer accommodation alongside. The ground floor will act as a hub of informal learning spaces and contain a large café/bar.
The proposed designs include Cross Laminated Timber (CLT) for the primary structure and low embodied carbon cement replacements in the concrete elements, reduce the embodied carbon within the building. In line with the University's commitments to fully divest from all fossil fuels by 2030, air source heat pumps (ASHP) will provide space heating and hot water.
Key Stats

No. Units: 72
Build start date: Feb 2021
Completion due: Sept 2022
Construction: Timber
Wellbeing has been an important design principle. Thermal comfort and air quality is optimised by the Passivhaus design, and all bedrooms will have a garden view. Landscaping will include an integrated sustainable drainage strategy, outdoor spaces including those suitable for events and performances, and an intimate new courtyard for quiet relaxation or individual study.
All preliminary design steps for this building, to Passivhaus standards, have been completed successfully, following positive engagement with the Planning Authority. Planning consent was achieved on December 10th 2020. Preparatory work will start towards the end of January. Although demolition will begin on 22 February, there will be a pause in construction to allow for focused study and exam revision between 16 April and 20 June. Building work will start on 21 June and facilities are expected to be complete by the start of the October term 2022.
Key Team
Client: Lucy Cavendish College, University of Cambridge

Architect: R H Partnership Architects

Main Contractor: SDC

Passivhaus, M+E, & Acoustics Consultants: PHT member Max Fordham

Structural Engineer: Smith and Wallwork

Landscape Architect: Bidwells UDS

Planning/ Project Manager: Bidwells

Quantity Surveyor: RDS

Certifier: PHT Patron WARM
All images unless otherwise stated: © R H Partnership Architects
Other Passivhaus Student Accommodation Plans
UWE Student Residences

2250 bedrooms

Croft Gardens, Kings College

60 bedrooms

Cranmer Road, Kings College

59 bedrooms
Further Information
Work to start on Lucy's new Passivhaus development
Lucy Cavendish announces plans for zero-carbon accommodation
Previous PHT Story: Could this be the largest Passivhaus Student Accommodation in the world? - 16th October 2020
Passivhaus for Educational Buildings
25th January 2021
---
---