Passivhaus Student Competition 2020
---
Returning for a fifth year, this nationwide Passivhaus Student Competition, sponsored by Tarmac, provides architecture & engineering students a creative vehicle to learn about Passivhaus and provide an opportunity to apply the Standard to their own designs. Competitors are asked to identify one UK retrofit or new build project and provide detailed design to turn this into a certifiable Passivhaus building.
The Competition
Students from participating Universities receive Passivhaus training, access to Passivhaus design software and are given the opportunity to experience a Passivhaus at first-hand, with an organised site visit. The competition is seeking schemes that clearly identify their Passivhaus strategy, had been tested via energy modelling & justified design choices via development iterations.
Students are encouraged to take advantage of several free Passivhaus events to educate and inspire their designs, from site visits to awards ceremonies. Below are useful links to Passivhaus training, events & crucial PHPP & designPH software:
Participating Universities
Winners
One winner will be awarded from each partner University. New this year will be a Sponsors Medal awarded to a project that rigourously explores the impact of materials.
Prize
Winners will receive a certificate, £300 gift vouchers, and printed pop-up banner of their scheme.
Winners will be invited to attend the 2020 prize-giving ceremony, which will take place at the UK Passivhaus Conference, offering a chance to network with those working in Passivhaus practice.
Winning projects will be exhibit at the UK Passivhaus Conference - an excellent opportunity to get winners work in front of prospective employers.
All winners will be featured on the Passivhaus Trust website and newsletter, gaining further exposure.
DesignPH models may be selected for international promotion.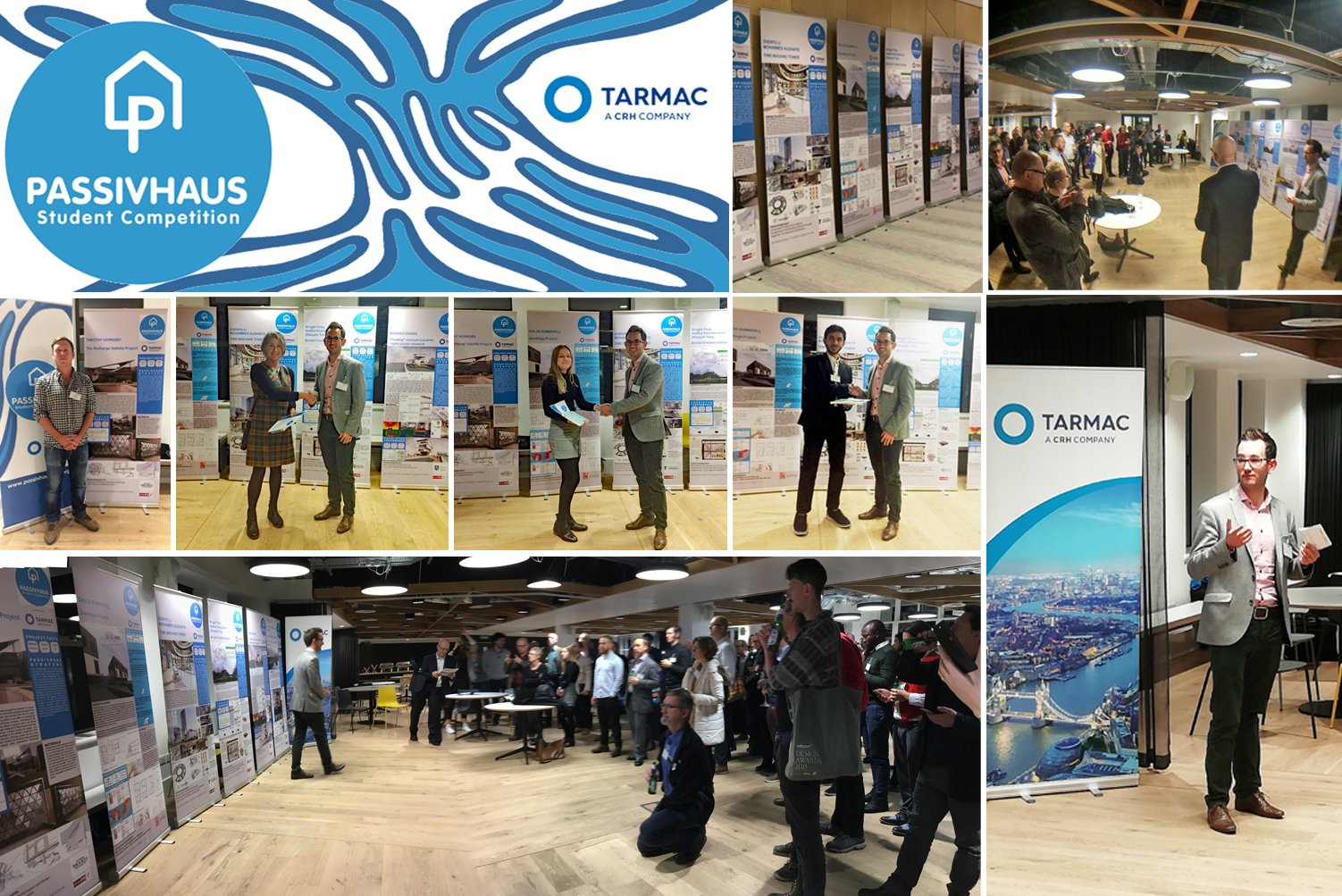 Previous Winners
Below are the winners and highly commended schemes of the 2019 competition with the awards ceremony taking place at the 2019 UK Passivhaus Conference.
Submission Templates & Criteria
All entries must have both a pop-up banner (2000mm x 800mm) and A3 development poster submitted electronically to be reviewed for shortlist. Templates and guides can be downloaded below. The deadline to enter the competition is the 29th May 2019:
Judges
Jon Bootland, Passivhaus Trust
Fran Bradshaw, Anne Thorne Architects
Mark Gillott, University of Nottingham
Martyn Kenny, Tarmac

Yogini Patel, Passivhaus Trust
Timeline
Further Information
Passivhaus Student Competition PDF flyer
2019 Passivhaus Student Competition
---
sponsored by
---