Passivhaus for Educational Buildings
Phase I I Phase II I Phase III
---
Building upon the success of the Passivhaus Social Campaign, and due to an increased demand, the Trust launched a campaign dedicated to the adoption of the Passivhaus Standard for educational buildings in 2020.
Aimed at those involved in the education sector, Phase I of the Passivhaus for Educational Buildings campaign encouraged the adoption of Passivhaus and provided guidance to clients. From local authorities delivering schools & learning centres, to University estates covering bespoke large education spaces to student accommodation, and everything in between.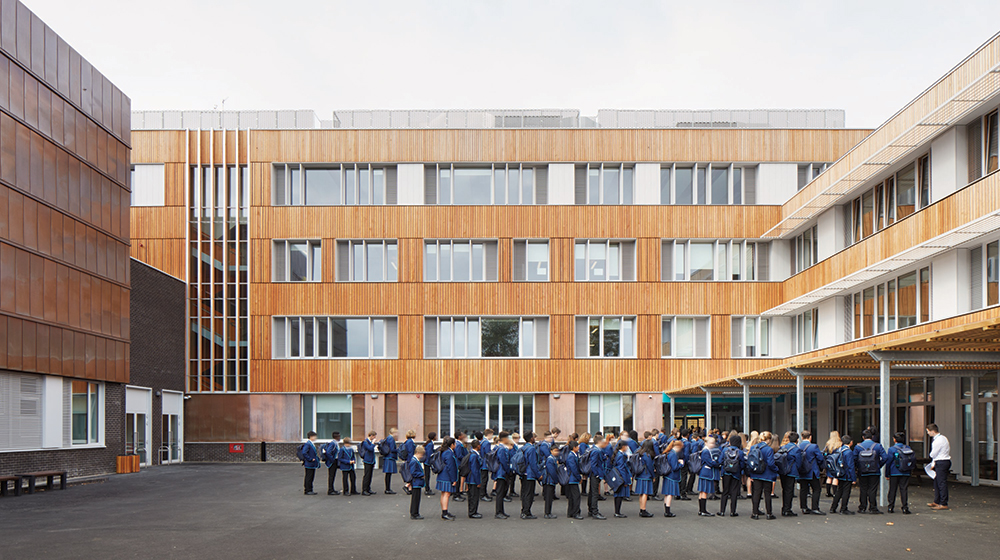 2022: Phase III
After delving into the procurement of Passivhaus, providing essential tools on how to deliver Passivhaus educational buildings, we continue with Phase III. In 2022 we shall develop a compilation video, featuring key highlights of the campaign so far. The compilation video will feature extracts of speakers and case studies, raising further awareness of the benefits of applying the Passivhaus standard to educational buildings.
2021: Phase II
Built upon the knowledge shared over the Phase I event series, Phase II of the campaign focused on both school and university procurement. The webinars explored a range of key topics including: Passivhaus as a route to net zero, developing a project brief for both new build and retrofit educational projects, setting a budget, appointing and managing designers and contractors, as well as early-stage design decisions. Phase II also included further engagement with the Department for Education on Government policy & Passivhaus prototypes.
Thank you to our school procurement webinar series sponsors: Architype, Hub East Central Scotland and Robertson Construction, and our university procurement webinar sponsor: Kier Group
Phase II past events
Recordings of previous events are available to purchase upon request. Recordings are free for clients and local authorities.
2020: Phase I
Phase I of the campaign was sponsored by PHT Patron Willmott Dixon. Following the official launch in July 2020, the Trust ran 3 subsequent events, looking at policy and case studies in Scotland, Passivhaus for university buildings, and Passivhaus for schools. All events have been recorded and available upon request to clients and local authorities.
Phase I past events
Recordings of previous events are available to purchase upon request. Recordings are free for clients and local authorities.
Key campaign objectives
Promote & encourage implementation of the standard & increase awareness of Passivhaus in educational buildings & student accommodation.
Highlight the benefits that Passivhaus can bring to occupant comfort and learning outcomes
Engage with the Department for Education (DfE) on guidelines & requirements for education buildings
Case studies
There are 15 certified Passivhaus schools in the UK with plenty in the pipeline. Award winning University buildings are pioneering the standard at scale, and several are now looking to integrate Passivhaus into their sustainability strategies across the whole campus estates to reach net zero carbon targets.
Further Information
Passivhaus Schools and Educational Buildings
Previous PHT story: Scottish Schools lead large scale Passivhaus - 8 April 2022
Air Quality in Passivhaus Schools Supports Learning
Indoor air quality and health - ASBP healthy buildings tutorial
Learning Places Scotland - Low Carbon Webinar: UK's First Passivhaus EnerPHit School
Passive House Accelerator: Passivhaus Schools Insights Design Details & User Experience - 12 September 2021
---